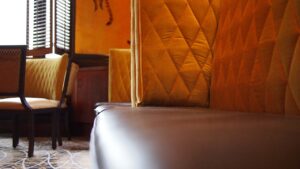 The right cushioning application for your solution is an important part of the manufacturing process. It is important for manufacturers to understand both what is needed to create a better product for their industry and what is available to meet that need. Foam cushioning is used across a wide range of industries, and different types of foam are better suited for different applications. 
Healthcare Cushioning Applications
Foams for healthcare cushioning applications are usually open cell polyurethane. This material is used because of its: 
Density 

Compression deflection 

Tensile strength 

Elongation 

Tear strength 
Although open cell foams are most commonly used, there are healthcare applications that require a closed cell polyethylene to be layered on top of the open cell polyurethane. This allows manufacturers to achieve the right level of cushioning and support. The most important factors when considering foam for healthcare applications include comfort and support while also considering the antimicrobial nature of the foam itself. 
Marine Foam Cushioning Applications
For marine seating and cushioning applications, foams need to be antimicrobial, resistant to hydrolysis, and be easily fabricated into many shapes and sizes. Because these foam properties are essential, it's recommended to use an ether-based polyurethane or beaded foams for support and comfort. 
When it comes to marine foam applications, reducing the chances of mold and mildew growth that often come with exposure to moisture is important, as is meeting UL 94 safety standards for flame retardation. Both polyethylene and polyurethane foams can be suitable choices depending on the specific application. 
Residential and Commercial Foam Cushioning Applications
There are two crucial aspects to residential and commercial foam applications: durability and comfort. Commercial applications tend to lead towards durability because the seating is used far more often than residential applications. When it comes to residential seating for couches, beds, etc., comfort is the more important aspect of the two. 
Closed cell foams are made from cross-linked polyethylene, giving them a greater structural rigidity that makes them more durable and resistant to tears. This makes them more commonly used in commercial environments. Open cell foams like ether and ester polyurethane foam are favored for residential cushioning because they are lighter, softer, and made of more viscoelastic materials, meaning they can return to their original shape after a force is applied to them. Either foam options can be used in both commercial and residential environments, so it's up to the manufacturer to choose what is most important in the products they are producing.