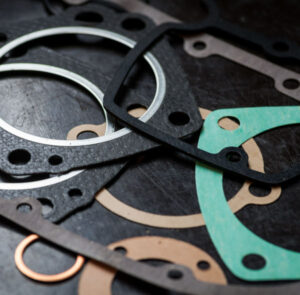 A common choice for industrial gaskets is neoprene foam. Neoprene foam, which has the chemical name polychloroprene, offers many advantages when used in foam gasket applications. 
What is Neoprene Foam?
Neoprene is commonly used in foam gaskets and mechanical seals that fill the space between two or more surfaces and prevent leaks in gas or many types of liquids. 
Neoprene foam is a material that is similar to rubber in that it is considered to be an elastomer (a natural or synthetic polymer that has elastic properties). It is a flexible, durable, and soft sponge rubber that is commonly used in many products across the medical, aerospace, and industrial industries. The material is available in both closed-cell and open-cell variants with each having its strengths. Closed-cell neoprene foam is waterproof, which makes it ideal for gaskets, while open-cell neoprene foam allows some air and liquids to passwhen it is not fully compressed. This can makes the material  ideal for industrial filtration foam. 
Why is Neoprene Foam a Good Material for Gaskets?
Neoprene foam is an ideal choice for industrial gaskets. It's properties include:
Is 

lightweight

 

Will not degrade due to exposure to sunlight, ozone, and other weather 

conditions

 

Has vibration dampening capabilities

H

as a h

igh chemical resistance

 

Will not break

 

down when it 

comes in contact with

 

water

 

or oils

 

Is a good 

insulator

 

I

s naturally form

–

fitting, increasing its ability to properly form an airtight seal

 

Is physically tough, durable, and tear

–

resistant

 

Is resistant to heat and flames

 

Has good compression set resistance, stress relaxation, and compression 

recovery

 

Can

 be used with a variety of adhesives

 

Meets many industrial quality and safety standards

 
Easy Fabrication
Neoprene is also very easy to fabricate, allowing it to be custom cut and shaped based on the needs of the application. Depending on the size of the application, it can also be made into a variety of thicknesses. The material generally comes in a roll or a sheet but can be fabricated with die and kiss-cutting machines.